Category: Home-News
---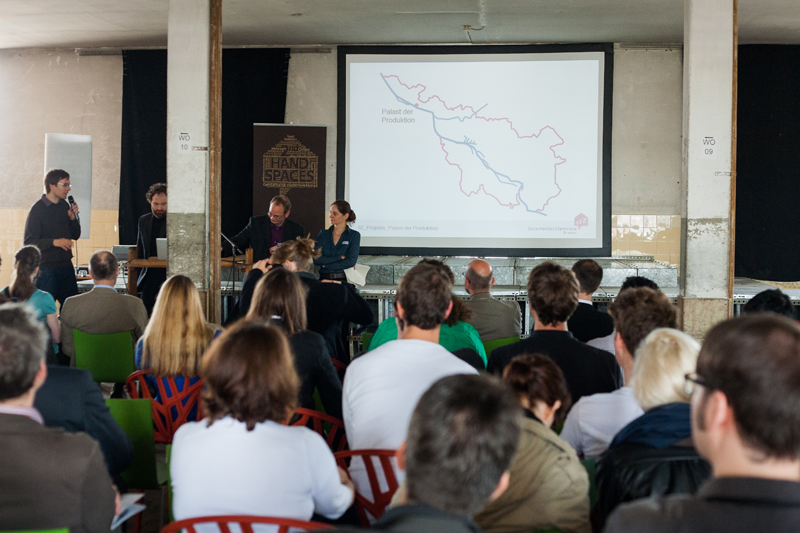 ---
Donnerstag, 28. Juni 2012 um 20:00 Uhr im Palast der Produktion:
Buchpräsentation second hand spaces – über das Recyceln vakanter Orte im städtischen Wandel mit den Herausgeber_innen und zahlreichen Autor_innen im Anschluss an den Kongress "2nd hand spaces – die Nutzung vakanter Orte als partizipative Praktik". Erschienen ist die Publikation im Jovis-Verlag, Berlin.
"Second hand spaces schöpfen an vakanten Orten aus der Atmosphäre, den Spuren, den Überbleibseln und der Geschichte der vorherigen Nutzung. Ihre Akteure schaffen aus dem Ort heraus eine eigene Ästhetik, die durch Einfachheit und Improvisationen gekennzeichnet ist. Second hand spaces entwickeln sich vor dem Hintergrund veränderter Ansprüche an Stadträume und bieten bei geringer Miete Platz für Interaktion, Partizipation und Start-ups. Sie eröffnen der Stadtplanung neue Handlungsansätze und leisten gleichzeitig einen nachhaltigen Beitrag zum städtischen Wandel."
Wir blicken am Donnerstag hinter die Kulisse, auf die Akteure und auf das Fluidum von second hand … Read More »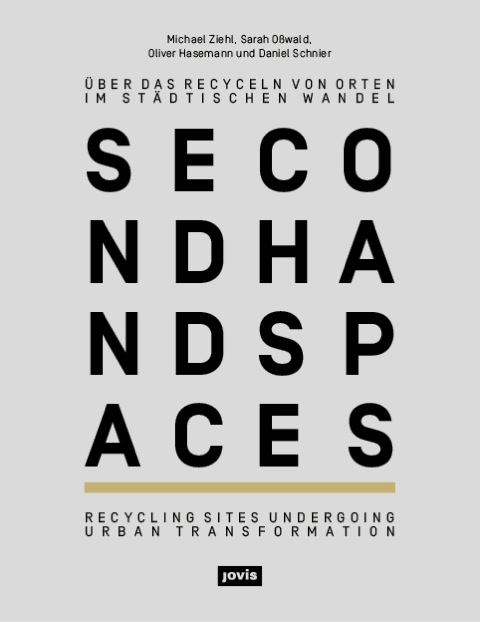 ---
2nd hand spaces often arise out of temporary uses. They enable city residents to participate on developing and designing processes and initiate the use of self-determined (urban)areas. They promote empowerment and involve groups that are usually not reached by conventional participation processes. They develop a lasting impact by building social networks, creating a new identity of vacant sites and through a need-based production of space.
As a pilot project of the National Urban Development Policy the ZZZ – ZwischenZeitZentrale Bremen (Agency of Short Term Uses) started to initiate and accompany temporary uses throughout Bremen three years ago. Brownfield sites were used for suburban projects and vacant buildings were transformed into places of cultural production and for start-ups.
Based on these experiences the first day of the congress is about relocation and reuses in the context of participation. In three different blocks, experts will speak … Read More »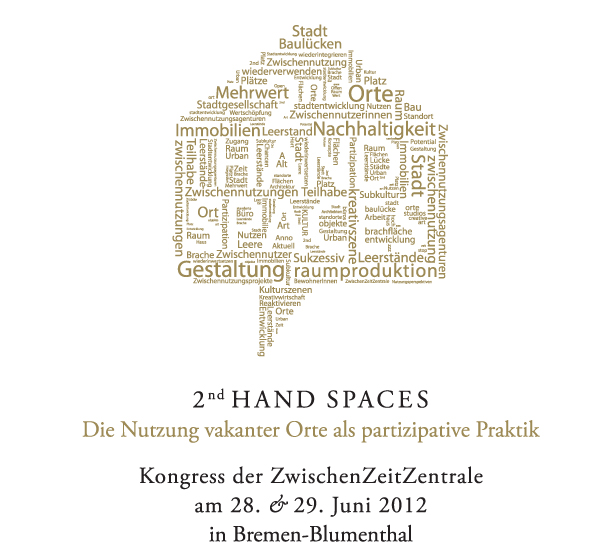 ---
Die ZwischenZeitZentrale Bremen (ZZZ) organisiert und konzipiert den Palast der Produktion. Aber was ist die ZZZ eigentlich? Dieses Video gibt Auskunft und stellt vier Projekte der ZZZ vor: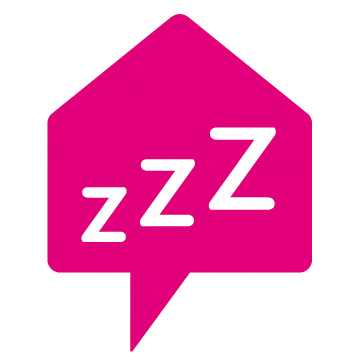 ---
Spielräume in der Stadt – Strategien der informellen Stadtentwicklung
In der gegenwärtigen Stadtplanung geht der Trend von der Angebotsplanung hin zur Akteursplanung. Als neues Leitbild zeichnet sich die "Stadt der Akteure" ab. Mehr Akteure und andere Formen der Vermittlung bieten die Chance, ein breiteres Interesse an der Stadtentwicklung zu wecken, ungewöhnliche Denkansätze zu entwickeln, Allianzen zu schmieden und in einem offenen Rahmen Lösungsmöglichkeiten zu ergründen. Der "Palast der Produktion" in der Bremer Wollkämmerei ist ein Beispiel für diese Strategie. Der Bremer Stadtdialog "Spielräume in der Stadt" versucht, dieses konkrete Beispiel in einem weiteren Kontext zu setzen, um die Grenzen und Chancen eines informellen Umgangs mit Stadtentwicklung zu ergründen.
Programm:
+ Impulsvortrag "Intervention. Partizipation. Zwischennutzung": Stefan Rettich (School of Architecture Bremen)
+ Impulsvortrag "Leerstand als Experimentierfeld": Oliver Hasemann, Daniel Schnier (ZwischenZeitZentrale Bremen)
+ Impulsvortrag "Werkbeispiele von Intervention im öffentlichen Raum": Martin Kaltwasser (Köbberling & Kaltwasser, Künstler, Berlin)
+ Podium: … Read More »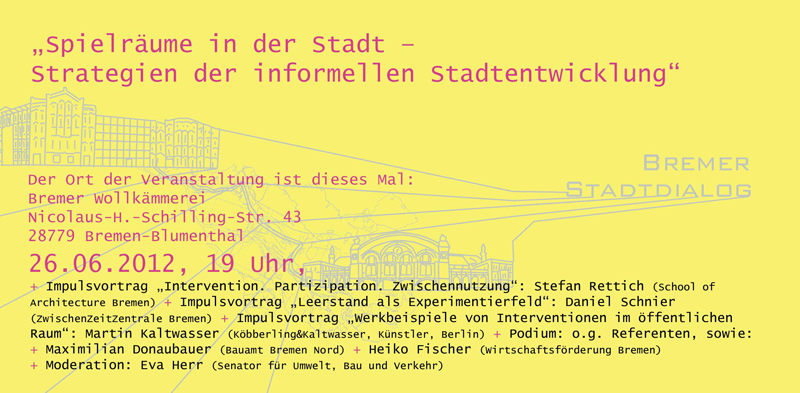 ---
Am Montag, den 18.06. hat Prof. Dr. Eberhard Syring seine Vorlesung im Seminar "Baugeschichte" kurzerhand im Palast der Produktion abgehalten. Seine Architektur-Student_innen im 2. Semester an der  School of Architecture Bremen haben die Gelegenheit genutzt um Einblicke in den Palast der Produktion zu gewinnen. Im Anschluss hat Uwe Böhnisch vom Förderverein Kämmereimuseum über das BWK-Areal geführt. Zur "Hausaufgabe" haben es sich die Student_innen gemacht, Nutzungsmöglichkeiten für das Gebäude der ehemaligen Sortierung zu entwickeln, wo derzeit der Palast der Produktion stattfinden. Wir sind gespannt auf die Ergebnisse!